One of the great things about towable RVs is that they allow you to unhitch when you arrive at your campsite and then drive your vehicle elsewhere. Being able to detach comes in handy, especially when it comes to making quick trips to stock up on supplies and groceries as well as ease of travel for day trips to nearby activities.
While towables come in all shapes and sizes, travel trailers and fifth wheels are the largest and come with lots of amenities. Choosing the one that best suits your needs often comes down to personal preferences and towing capacity.
For the most part, travel trailers and fifth wheels are more alike than they are different. They both get the job done well, but there are perks and drawbacks to both depending on your lifestyle and budget.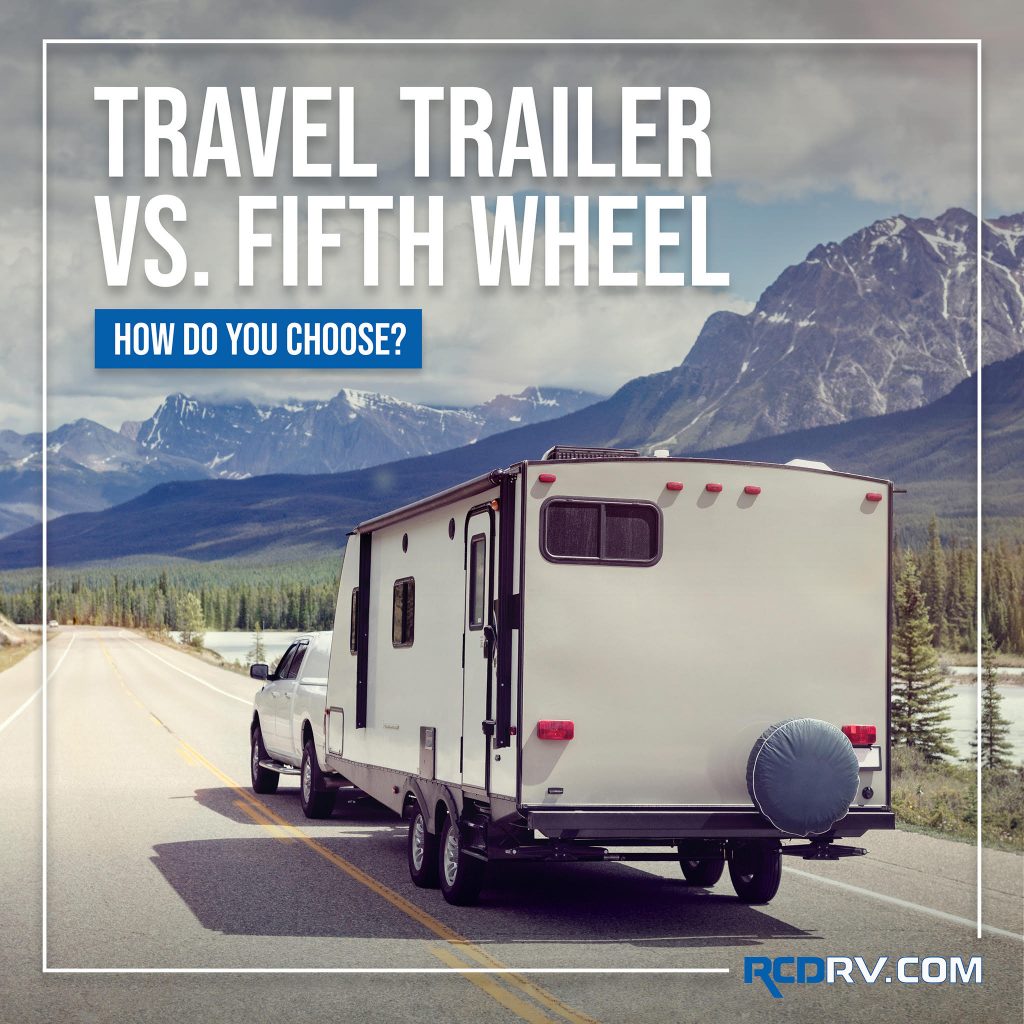 Towing
Fifth wheels require a pickup truck, because they use a special hitch — a long tongue — which sits in the bed of a pickup, while travel trailers use a common ball-and-couple hitch. Travel trailers can be towed with any vehicle that has a high-towing capacity, such as a pickup truck, SUV or Jeep.
In addition to towing, also take into consideration your family size and the types of activities — canoeing, kayaking, riding dirt bikes or ATVs — you engage in while out and about. Think about where everyone will sit while traveling, and how you will transport all of your toys.
Oftentimes, the deciding factor on whether you go with a travel trailer or fifth wheel is determined by the type of towing vehicle you own or are planning to purchase.
Features
Luxurious bathrooms, upscale sleeping areas, tech-savvy kitchens, cozy living rooms, slide-outs and fireplaces — the list of options and amenities just keeps growing.
The bottom line is that fifth wheels offer more space, privacy and room to spread out. However, travel trailers offer just as much comfort and space, accommodating four or more people, in most cases.
Price Points
If you are new to the RV world, travel trailers and fifth wheels are a great option to get started without making a huge investment. Both are less expensive than drivable RVs, because they come in a wide variety of styles and sizes. When it comes to price and budget, you also need to factor in fuel and campsite costs. Bigger RVs that are heavier will obviously impact how much you spend on gas.
Brands
For fifth wheels, check out these brands — Alliance, Coachmen, Forest River, Jayco and Keystone. As for travel trailers, we have a huge selection of new and pre-owned vehicles to meet your needs and get you on the road today.
Whatever your lifestyle, family size or budget, RCD RV Supercenter is here to help. Our team of sales experts is ready for all of your questions. Check out our inventory and get pre-qualified today.