About Our Dealership
At RCD RV Super Center, we are passionate about getting you into an RV that meets your specific needs and tastes! Our three different locations in Delaware, Heath, and Pataskala are here to serve you and make your next RV purchase a happy one!
History
Chuck Haire Sr. (known widely as 'Papa Haire') packed up his family and moved from Cleveland to Hebron in 1971, after being in the rubbish business in the 60's. With his entrepreneur-ship ideas, he and his son-in-law, Ronald Charles Davidson, became National Distributors for the 'Air Camper' – sort of like a rooftop tent for your car. Papa Haire, along with his son-in-law, established RCD Sales Company LTD in 1973. RCD Sales Company LTD would later be known as RCD RV Supercenter. Soon after opening, Papa Haire's two sons, Tom and Chuck Jr., graduated high school in 1974. When they were asked what they wanted to do, "Cars" was the answer. So they also joined the RCD RV Supercenter Business. The company began in Hebron, Ohio on a dirt lot, selling used cars, trucks, line equipment and, from time to time, a used RV.
The company re-located to its Hebron location in 1980 to a larger lot. The sales office was in a mobile trailer, and our 'service shop' was in a small barn. The family began to see that the RV's and campers that they took in on trade were catching a lot of interest, so in 1983 the company took on its first line of new travel trailers, the Skyline 'Aljo Aly'.
In 1988 the 'Prowler', by Fleetwood, replaced the 'Aljo Aly' lineup. Our first line of motor homes came in 1989 – the Fleetwood Jamboree Class C. In the midst of all of these exciting changes, Papa Haire chose to retire, leaving his sons, Tom and Chuck, to run the business.
RCD was beginning to grow out of its walls, so a new building was started in 1997. Our previous sales office was donated to the Millersport Sweet Corn Festival, and the old barn came down. The new building has a nice large showroom, and service garage with several bays. RCD has since became more exclusive to the camping industry. The lot has expanded, and RCD opened its second location in 2009, and now it's third in 2012!
Over the years the company has continued to grow and develop to better serve our customers and their needs. Through all the changes, RCD RV Supercenter Company has always remained a family owned and operated business, having had several family members contribute to the growth of the dealership, which is now one of Ohio's largest RV Dealers. This truly shows the value that RCD RV puts on 'family'. Tom and Chuck have now also re-tired, leaving the third generation of Haire's to keep the business growing.
We hope that you feel like a part of the "RCD family" when you leave here. Thank you for giving us the opportunity and taking the time to get to know "us". Learn more about why to choose RCD RV. Our RCD Family is not only located in Ohio, we have our partner store Murphy RV located in Florida.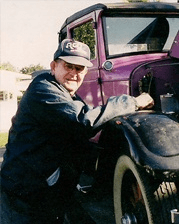 Chuck Haire Sr., Founder of RCD RV Supercenter