Keystone Montana For Sale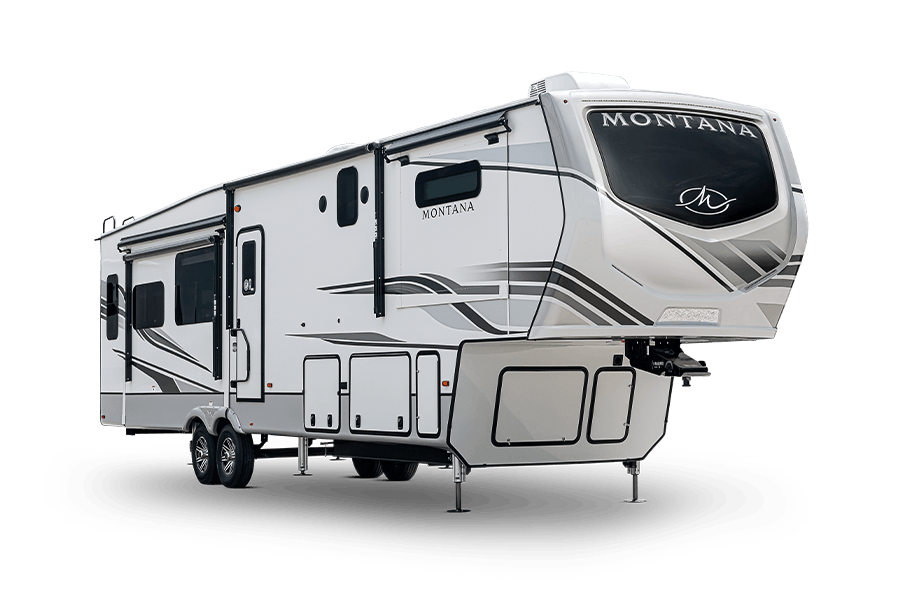 Shop for a New Keystone Montana
Columbus area shoppers looking for a brand new RV should take a closer look at the Keystone Montana. As North America's No. 1 seller in the luxury fifth wheel category, the Montana is thoughtfully designed and engineered, perfect for extended stays and full-time RVing alike.
If you're looking to travel without sacrificing luxury, the new Keystone Montana is the perfect choice. Shop for brand new fifth wheels and more at one of our RCD RV dealerships!
New Keystone Montana Near Me
The Montana features 14 different floor plans and sleeps from four to eight people. The fifth wheel's weight, length and height can vary depending on the specific model, though all Montanas provide plenty of space:
Weight: 12,367 lb - 15,080 lb
Length: 35' 0" - 42' 7"
Height: 13' 4" - 13' 5"
The Montana also boasts a variety of decor options including Bourbon, Cobblestone and Cottage White to perfectly outfit the interior of your luxury fifth wheel. Montana's modern maple style uses solid hardwood cabinet framing, end panels, desktops, dresser tops, as well as upper and lower crown molding on kitchen cabinets to keep the inside of your RV looking beautiful for years.
Enjoy high-performance A/C with Coleman-Mach's Power Saver technology, which allows a third optional A/C to run on 50 amp service without sacrifice, while water lines and tanks are protected to keep you camping down to 0℉ and all year round.
Shop For a New Keystone Montana Near Columbus
Are you in the market for a brand new Keystone Montana? Check out our full selection of new RVs for sale at one of our Ohio locations in Delaware, Heath or Pataskala. Do you have any questions about the Montana or other new Keystone RVs? Be sure to contact us at one of our various locations online. We hope to see you at one of our RCD RV locations soon!