Keystone Springdale For Sale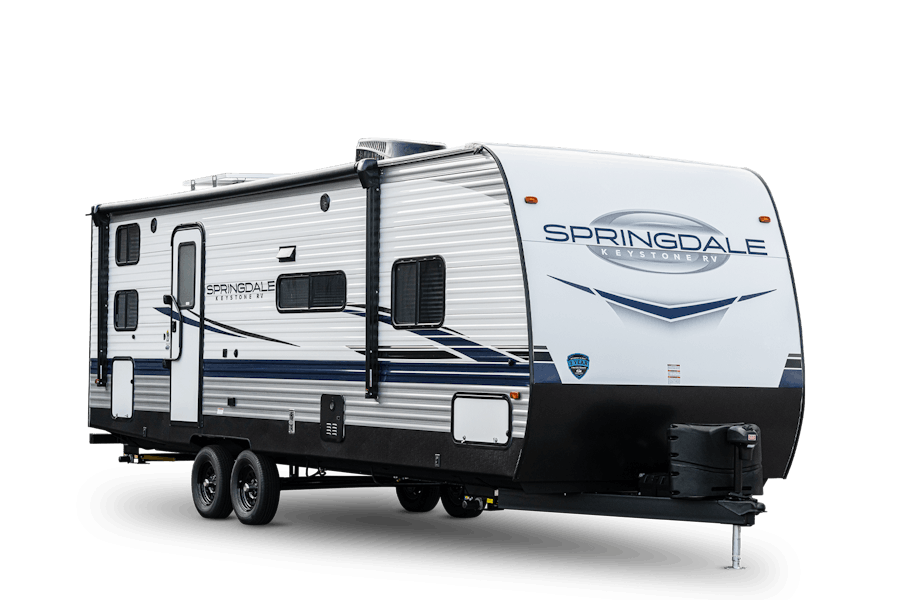 Shop for a New Keystone Springdale
The new Keystone Springdale is perfect for campers, couples and families, as the affordable travel trailer ranges from tiny to large. From extra storage to power stabilizers, tongue jacks and awnings, the Springdale is more than prepared to take you on your next adventure, and many more after that.
New Keystone Springdale Near Me
Columbus area shoppers can find various unique features in the new Keystone Springdale, including solar power options and larger campsite windows. With a total of 44 floor plans and a sleeping capacity of four all the way to 11, the model's versatility is on full display from the very beginning.
New Keystone Springdale Highlights
The Springdale boasts exclusive groundbreaking components and technologies from the Keystone brand, including the new Blade High Performance Air Flow System. This patented air handling system completely re-engineers RV ductwork and vent systems to deliver an average of 20% more cooling power.
Keystone's exclusive color-coded 12V wiring is different from conventional RV wiring, making any maintenance that much easier for both owners and service technicians. The Giggy Box 12V distribution center organizes and streamlines 12V wiring connections with a disconnect option to prevent unwanted battery draw.
The Keystone Springdale also has a Tru-Fit Slide Construction, featuring a more durable slide room design that minimizes functional motor structural stress and resists leaking.
Shop For a New Keystone Springdale Near Columbus, OH
Are you interested in traveling in the brand new Keystone Springdale? Visit us at one of our RCD RV locations near Columbus for a closer look at the model, as well as other RVs available in our inventory. If you have any questions about the Springdale or other Keystone RVs, be sure to contact us at one of our various locations online!